Or why the next generation of HR is important and what we can do for them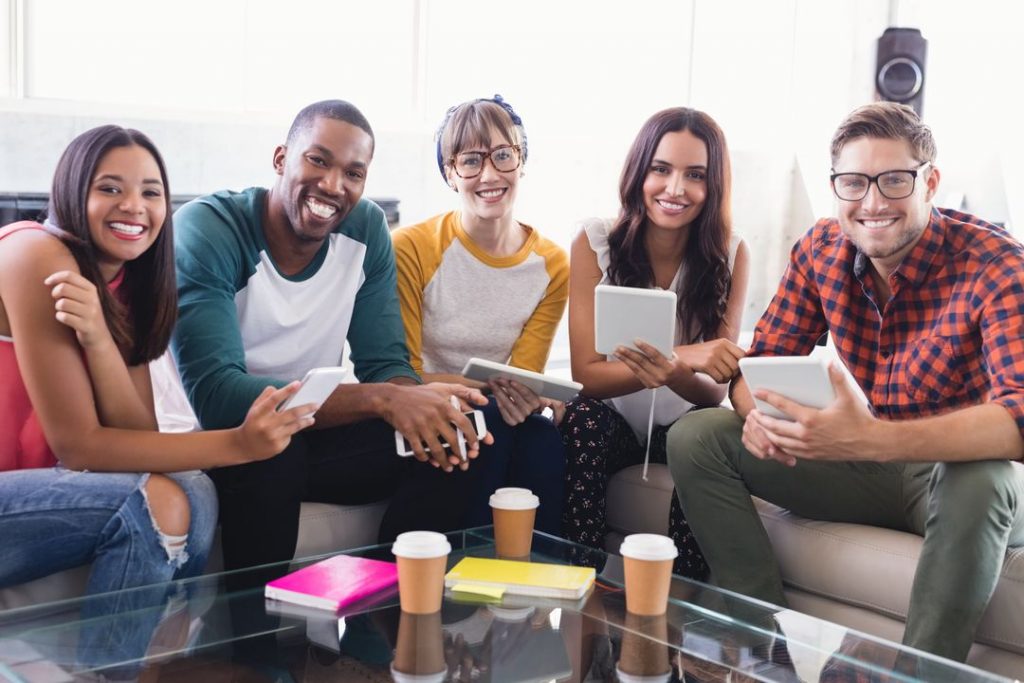 Gina
We had a meeting with Gina on an August afternoon. It was a real heatwave, but a cooling was predicted for the evening. I waited for her in the teagarden while trying to catch the attention of the waitress to finally pick up the order. Suddenly she rushed in, cheerfully, carefree, and sank into the chair next to me. She came for advice.
"Tell me! What's HR about? I'm thinking about changing my direction and this sounds good. I want to know everything," – she said quickly.
"All right." – I said, then asked her a question. "Are you interested in the economy, politics, technology and the people?"
"Uh, do you need to know all these to be a good HR professional?"
A three-hour question-and-answer session followed, which was ended by a sudden flurry of winds. After a few weeks, she wrote to me about applying to the university's HR faculty, and when she gained admission, she asked me to be her mentor. I am proud that Gina is now working as a successful HR Business Partner for a reputable company.
This story raises the question as to why the new generation of HR is important for business and the HR function and how we can find, inspire and develop young talent like Gina.
The present circumstances
The world is changing drastically and at a rapid pace. On the one hand, it shows its uncertain and unpredictable face, on the other, it offers inexhaustible possibilities and solutions in abundance. Fundamental change is ignited by five inevitable global trends: demographic change, changing global economic power, accelerating urbanization, resource scarcity and climate change, as well as technological development. These global trends have a major impact on the operation and survival of our business organizations. The topics that most concern our senior executives are digital disruption, changing business models, seizing growth opportunities, business conditions development, attracting the right people, making the most of their skills, developing and retaining them.
In this environment, the HR function is also radically transformed.
The currently used 'Ulrich model' is replaced by a unique, company-specific HR operating model in which the unity of strategy, organization, tools, processes, measures and people directly supports the value chain, taking into account the special characteristics of the organization.
The 'HR Partnering' approach did not fully live up to our expectations. Despite the positive changes and the results we have achieved, the business acceptance of HR is still not complete in many places. We struggle with negative judgment, rejection, provocative – painful, but often true – criticism. Our efforts, which we find useful, are only partially met with business recognition, and we are frustrated and offended. Clearly, in order to achieve the credibility of the function and our individual credibility, we need to change perspective, shifting the focus from mere execution to active, strategic participation and responsibility in business. However, the receptiveness and support of senior management is also essential for the effective and efficient fulfillment of the transformed role of HR.
In addition to the traditional operating function (e.g. labor, administration matters), topics and tools such as Digitization, MI/AI, Innovation, People Analytics, Agile Organizations, Employee Experience, Employer Branding have been added to the HR role in the interests of the HR-based support of breakthrough new business solutions. Without a proper corporate culture and leadership, there is no significant change in the organization, so we need to go back to the basics as well. Expectations for HR have naturally increased, and we have been constrained in terms of time and cost. Our lives are an eternal transformation, there is rarely or no time for reflection.
This is when we were attacked by COVID 19. Teleworking, digital communication, empowering employees and maintaining their mental health, the need to change management paradigms have become (or should have become) a reality from one moment to the next. Experts say the ongoing trends will be accelerated by the crisis. The crisis may last longer, and the 'new normal' will be very different from the previously best practice. Applying certain trends to industries, companies and budgets can help make organizations more efficient, more competitive, and the employees more adaptable, and more resilient to change.
It is this environment where talented young people who choose HR as their profession or want to spend part of their professional/managerial career in this function must enter. They could become potential successors to current HR leaders and future leaders who will run companies within increasing uncertainty. As professionals or leaders, they will have a great responsibility for people (employees, customers, consumers), the environment, the society and the shareholders.
Therefore, it is extremely important who let them on their way and what advice they have been given for the journey.
Members of the new HR generation
I like working with young people, observing their development and career paths. Perhaps I am not exaggerating when I say about the members of the new HR generation that these people are open to the new, curious, informed, flexible in thinking and solutions, tolerant, humorous, constantly learning, leaving their comfort zone, proficient in the digital/virtual space, they talk foreign languages and are good at establishing connections with other people. They are brave and happy to experiment with new things. They need challenges and variety as well as the attention and feedback of their leaders. They want to know more about the business world, and they want a real-life HR experience instead of book-smelling knowledge. They absorb information like sponges; their eyes sparkle when they understand the connections and have a sense of success. We need to take them seriously, inspire, support and encourage them. It is a real pleasure and honor to gain their trust, to work with them.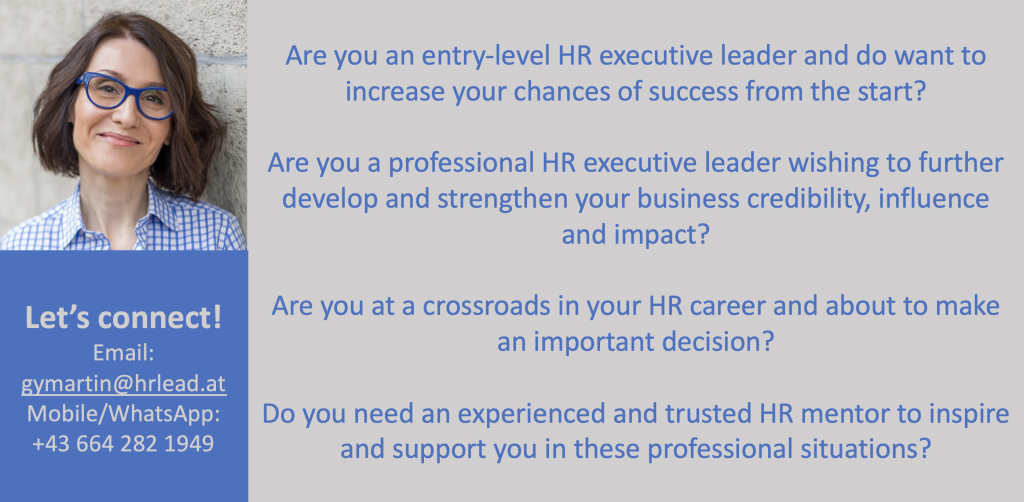 Critical directions in development
Today, HR is one of the most dynamically evolving and complex corporate functions. It is also the most interesting, as you have a view of the whole business, you can create business value for any part of the company. However, the changed economic environment requires a new way of thinking, knowledge, leadership tools and style. I consider the way of thinking, the competencies and skills of HR colleagues hired 1-3 years earlier as one of the measures of individual professional development within the company. If they only have what they already had before the recruitment, it is because they did not receive enough attention and financial resources for their business/professional/leadership development. This fatal irresponsibility negatively affects the viability and competitiveness of a company as well as the quality of the HR function and the careers of professionals.
In addition to a comprehensive knowledge of the business, the growth and agile approach, the desire for knowledge and discovery, and the system-level knowledge of the causal connections of business and human factors and their interactions come to the front. People-centeredness remains a core value.
LinkedIn released its survey in early 2019, which shed light on the most critical HR areas of the digital age. These are: People Analytics, Consulting and Influencing Skills, HR Technology Knowledge, Strategic Workforce Planning, Design-Thinking and Stakeholder-Management. It is also striking at first reading that these skills represent a completely different approach than traditional HR knowledge.
For those who, as potential successors to HR leaders, will become the senior executives of the future, leadership training is essential before taking over the baton. Knowledge, skills and human qualities will together result in a compelling business acumen, confident leadership practice and showing up as a leader that leads to partnership and business influence equal to peers at the same level.
Among other abilities and skills that are integral to the HR function, I also highlight empathy, emotional intelligence, analytical and creative thinking, dynamic problem-solving ability and communication skills.
Who is responsible for the development of the new HR generation?
In my opinion, the responsibility should be shared equally between the participants below and the growing HR talent. I will also share some suggestions in the list below.
Universities and Institutions of Continuing Education provide the foundations for the aspiring HR leaders. Therefore, their role is decisive and indispensable. Such institutions define what image the students obtain about the HR role, the goals and responsibilities of the HR function, its connection with other business areas. Their takeaway is the attitude and the ambition. I consider it important that higher education should teach them, in addition to functional HR knowledge, that HR has an important role in creating business value according to the latest HR approach and its practical implementation.
Business Leaders can also take part in recognizing and developing the talents of young people.
Sharing information about the company's current situation, challenges objectives and difficulties
Giving them opportunity to participate in future projects
Involving them in solving challenging business opportunities and problems
As a mentor, introducing them to the mysteries of their own field, presenting the business through their own perspective
Building trust towards them, encouraging and appreciating them
HR Leaders can do a lot by focusing on finding and recruiting HR talent on the one hand and maintaining their commitment on the other. In addition, it is their responsibility to bring them up as prospective future candidates for their own positions.
Helping them form a knowledge and understanding of business processes
Introducing them to the internal functioning of the role and its impact on the business value chain
Developing the most critical HR skills through targeted training, engagement, rotation and on-the-job assignments
Giving regular feedback and coaching
Increasing their visibility towards top management
Mentors inside or outside the organization, chosen by the talented, will have a positive effect on them by setting challenging goals, encouraging them to learn new things and to appreciate diversity.
Helping them articulate and achieve proper goals
Supporting them in planning their career path
Providing guidance, giving them advice, improving their self-confidence
Sharing their professional knowledge, experience and instructive stories
Supporting the development of their professional network
Young people who want to find a profession in the HR field should accept some of the following suggestions:
Create proactive learning opportunities for yourself (e.g. books, online webinars, workshops, podcasts, LinkedIn, HR community platforms)
Dare to ask questions, give your opinions, take an active part in the life of the company
Volunteer to certain tasks and make use of the opportunities offered
Take feedback seriously and work hard on yourself
Search for professional connections both inside and outside the organization
I can say with complete certainty that attention and targeted support will lead to ROI (return on investment). We must continue to identify, attract and develop the best and most suitable young HR talent.
It is not only about the future of the HR function but also the future of business.