Personal branding seems to have become fashionable among HR leaders as well. More and more people are giving an insight into their professional and private lives. They are the ones who represent their companies at events, give interviews, give presentations, appear at professional networking events, make public commitments to sustainable objectives, take photos, selfies, and post. According to naysayers this is just self-promotion, but are they right? What is a personal brand and why is it necessary in business life? What is the difference between a personal brand and an executive brand? How to build an authentic personal brand as an HR leader?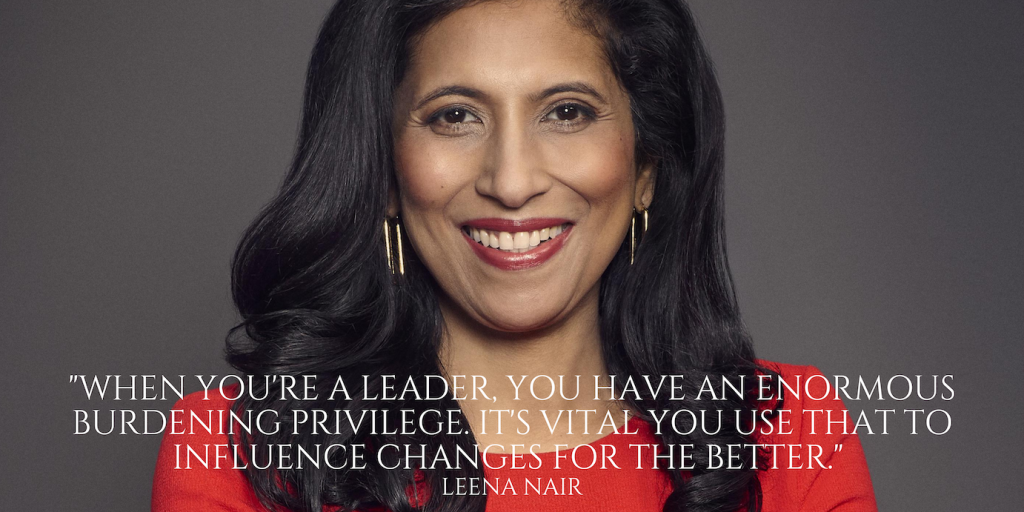 Privilege and responsibility
"I worked to the last day of having my baby. I went into hospital; I had my baby. Six hours later, I was on emails. And my boss was telling everybody: 'Look at this woman, she's so driven. She has just had a baby. Look at her, she is incredible, she is back at work. Amazing!'
And there was a younger woman in the business, and she said: 'What you are doing is so bad!' I said, 'What did I do?'. She said, 'You have set an impossible bar for all of us, because this is what everyone's going to expect: women in Hindustan Unilever are goanna have babies and within 6 hours get onto emails. What's the point of all these generous maternity leaves you have created and all of that, if at the end of the day this expectation has been set by you?'
And it was like 'Oh my God!' this is a wake-up moment. This is not right. And I went on to of course take my whole maternity leave, switched off emails completely, had a blast with my baby – thank God for that. You have to think of everything you do and think of the shadow casts." – Leena Nair, Chanel Global CEO, former Unilever CHRO
Personal identity
Your personal brand is your own identity: it shows who you are, what you do, what your values are to your company, customers, and communities, and how you communicate this as an HR leader. Through personal branding, you create your public persona, giving others an insight into your values, beliefs, commitments, and goals. You also have a personal brand, even if you haven't built it thoughtfully so far. When others notice you, speak positively about you and your work, value what you say and do, and count on you, your personal brand is being built almost unnoticed and in a beneficial way. However, this is true even if the opposite happens. The question is not whether you should build a personal brand, but how you will consciously manage it.
Business organizations are increasingly focusing on transparency and credibility. In the eyes of the public, a leader with a credible personal brand is not only a trusted corporate ambassador, but also a respected professional and industry leader. This kind of trust offers outstanding business opportunities for both the leader and the leader's organization.
Reputation and career
Your personal brand will help you make the result of your work visible to others, increase your leadership credibility, build your reputation, gain internal promotion, position yourself for significant career opportunities, continuously build your professional network and strengthen your business influence. In my experience, the majority of HR leaders do not speak about themselves, in fact they avoid publicity and appearances, and it is quite difficult to find information about them. David Owens, managing director of senior executive search at HR Partners, says: "Your brand becomes your signature and when someone asks us to identify a particular kind of HR leader with a known capability in a particular field, your brand can help put you at the top of the 'go to' list."
Executive brand
It is worth noting that the executive brand is not the same as the personal brand of the leader of an organization. We talk about an executive brand when an organization develops an outstanding leadership capability in the form of one or more attributes that have a unique impact on all stakeholders in the organization. It is this feature of the organization that gives all stakeholders, i.e., customers, employees, suppliers, investors, etc., the belief that all parts of the organization will consistently deliver on the promises of the given leadership attributes. For example, Satya Nadella, CEO of Microsoft, expects his leaders to have 4 essential traits: the ability to provide clarity (especially in uncertain/ambiguous situations), the ability to generate energy (enthusiasm/inspiration), the ability to drive success in any conditions, and empathy.
Building an authentic personal brand
As an HR leader, you are a key brand ambassador for the company you represent. In your leadership role privilege and responsibility go hand in hand. As Leena Nair's example quoted in the introduction shows, as a leader you need to be more deliberate and forward-thinking in building your personal brand, which has a positive impact on your own and your company's internal and external perception.
Do you want to build an authentic and unique personal brand as an HR leader that will help you achieve your career goals and consolidate your reputation as an industry leader?
As usual, here are some practical suggestions for defining and managing your personal brand:
Self-awareness/self-identity: Self-awareness is the foundation of an authentic personal brand. Self-analysis, self-reflection, and feedback from your external environment (it's worth asking those you trust!) can help you a lot become more aware of yourself, your qualities, and your values. Your person and your brand become authentic when you present and act on your own inner drives, personality, and opinions.

Uniqueness

: To express your uniqueness, you need to articulate your vision, 'what you feel you have a particular talent for', 'what your strongest skills are', 'what inspires you most', your professional/industry knowledge and experience. This will lead you to define your role and why and in what direction you want to make a commitment. Seneca also believed that "If you don't know what port you are sailing to, no wind is favourable."
Setting the objectives: Now is the time to be specific about what you want to achieve in the short and long term. This includes your professional (industry, company, customers, colleagues, career, etc.), personal (family, children, learning, etc.) and sustainability (society, communities, environment, etc.) goals. When setting your goals, stay grounded in reality and draw inspiration from the examples of HR leaders you admire; these will help you define what success looks like. This is how Leena defined her goal: "My purpose is to ignite the Human Spark to build a Better Business and a Better World." Leena's success speaks for itself, whether we take her achievements at Unilever or her appointment as Chanel Global CEO in 2022 into consideration.
Value proposition: Once you've laid the foundations for your personal brand, you can develop your value proposition. A value proposition is a promise of the value you will give to those who follow, choose and/or work with you. Your competitive value proposition should be authentic, meet the needs, expectations, and aspirations of your audience (market, industry, company, customers, colleagues, candidates, etc.), include your achievements and their impact on the business/company/people, while at the same time it should harmonize with your company's value proposition.
Communication: It's not enough to be exceptional, you have to show it on a regular basis! This way your target audience can get to know and appreciate you, recognize your future potential and promote your professional development. Choose the online professional platforms that offer you the best support to achieve your goals and become an active member by posting, commenting, and sharing content of interest to you. Strengthen your offline network by attending events, conferences, trainings and seeking personal connections. Find your own voice! Speak up, speak your mind, provide support to HR and other communities, so that market participants can learn more about you and trust you.
According to Móni László – who for me is the uncrowned queen of personal branding in Hungary – "Your personal brand is not to be invented, but to be found." Nowadays, personal branding is not an option for an HR leader, but a requirement for you to be known and acknowledged. It's also how you build your business reputation, influence, and career.
Inspirations: How to create your personal brand by Brandallagency, László Móni: Lehetsz kivételes – Az énmárkaépítés alapjai (Kossuth Kiadó 2015)