According to the research of SAGE, 63% of c-suite executives are fully confident HR can bring the organisation into the new world of work, compared to 52% of HR leaders – an 11% difference in opinion. What fundamental changes shape the future of business? What is the role of HR leaders in reframing work? What will the new world of work look like? How should we visualise the future of HR? Questions that will inspire all HR business leaders to understand, think and act.
Prologue
"Castles are any set of institutional structures that loom large and feel permanent. Castles are monuments to the past and to past thinking, museum of preservation. Knowing the nature of castles helps challengers develop a plan of attack or a mode of change. The best way to attack a castle is not head on. The best way is to go around it or underneath it. As every change-seeking leader and entrepreneur knows, innovation rarely comes from deep inside the establishment. Incumbents tend to defend past decisions and won't give up power easily. Or sometimes they simple feel bewildered by what's happening, fearful of the uncertainties of change. Or they stay ignorant of the positive possibilities that change might bring. So, they stay inside the castle and fortify the walls of its many chambers that confine occupants. Given such strong defenses against change, fresh ideas come from those who do more than think outside the box. They think outside the building." – Think outside the building by Rosabeth Moss Kanter
New business growth paths
Why is it necessary to reframe work? Globalisation, political and social changes, economic uncertainty, disruption, market shifts, and the spread of digitalisation are all having a major impact on the economy. It is no longer possible to achieve economic growth on a large scale by cutting costs and increasing efficiency alone. Companies must be open to radical innovation to find new, significant, sustainable sources of revenue. To do so, they need to change the core of the business – i.e., the set of capabilities that will enable the business to operate effectively in the future. They need to think over new possible paths for business growth and match the right business model, organisational structure, operations, and the necessary resources to those. This transformation is accelerated by the global pandemic, where we also have to face the changing needs of people, customers, consumers.
A leadership agenda to take on tomorrow
Before we break down the elements of the new world of work, let's see what CEOs think.
PwC has recently presented its 24th Annual Global CEO Survey, which was conducted in January and February 2021. After one year of pandemic, CEOs believe we are turning a corner – both in the world's economic trajectory and in their own possibilities for reinventing the future. The survey reveals the following:
76% of CEOs say they believe

global economic growth will improve during the next 12 months.

36% of CEOs say they are very confident about their revenue growth prospects for the next year, and 47% are very confident looking ahead three years. Fast, high-quality decision making will remain on the top of most leaders' 'keep' list.
49% of CEOs plan increases of 10% or more in their long-term investment in

digital transformation

and 32% in initiatives to realise

cost efficiency.

36% of them aim to focus on productivity through technology and automation. The workforce continues to be of strategic importance.
CEOs express increasing concern about

pandemics & other health crisis

(52%),

cyber threats

(47%),

over-regulation

(42%) and tax policy uncertainty (31%). Rapidly rising concern is the

spread of misinformation

(28%) which reflects today's historically low levels of trust.
HR leaders are witnessing a new era of work, and together with managers and employees, they are playing a key role in shaping its framework and sustainable future, laying the foundations for the future of the business and preparing employees for the next decade. HR leaders have a strategic responsibility to rethink work: what, with whom, where and how it will be done in the organisation. These are questions that challenge all HR leaders to understand, think and act.
The future of work
The future of work will vary from one industry and company to another. What it becomes will depend on the adaptability of companies and the growth path(s) they choose. This requires business leaders – strictly including HR leaders – to answer 3 basic business questions.
Where is my growth going to come from?
A thorough analysis helps to get a realistic picture of the company's growth situation, it may clarify strategic priorities to provide the company with a clear vision and a mission to guide decisions.
How do I grow now and tomorrow?
To achieve longer-term growth, companies can invest (divert business resources from underperforming activities to the right opportunities), increase performance (generate new revenues by optimising trade) and serve yet unsatisfied customer needs by creating new products/services.
How do I set up my growth engine?
It follows from the above that they need to rethink their business model and operations, and adapt their organisational structure and business resources to these. They need to have a crystal-clear view of the current readiness and potential for development of the organisation, as well as the conditions for future growth and the necessary improvements.
They have to answer real-life, practical questions such as 'Where will we work?' (e.g., hybrid work and its conditions), 'How will we work?' (e.g., job changes, flat organisation, flexible operation, digitalisation/AI), 'Who will we work with?' (e.g., talent marketplace, diversity in recruitment, mobility, gig economy), 'What skills will be needed?' (e.g., training and retraining for professional, emotional, cognitive skills, personal portfolio instead of profession-independent knowledge and skills), 'What culture will support growth?' (e.g., customer-centricity, transparency, trust, empowerment, well-being) and 'What leadership quality will support growth?' (e.g., transformational skills, partnership, risk taking, psychological safety, lifelong learning).
Given how few organisational leaders feel ready for the longer-term implications of the future of work, many continue to pursue reactive digital strategies, or implement a few visible but symbolic initiatives, or adapt new technologies to existing processes. I see the strategic importance of HR leaders at this stage in their ability to initiate and facilitate conversations for change, share information about the forces/trends driving change, point out hidden correlations and risks, challenge entrenched organisational routines, propose creative business-focused solutions.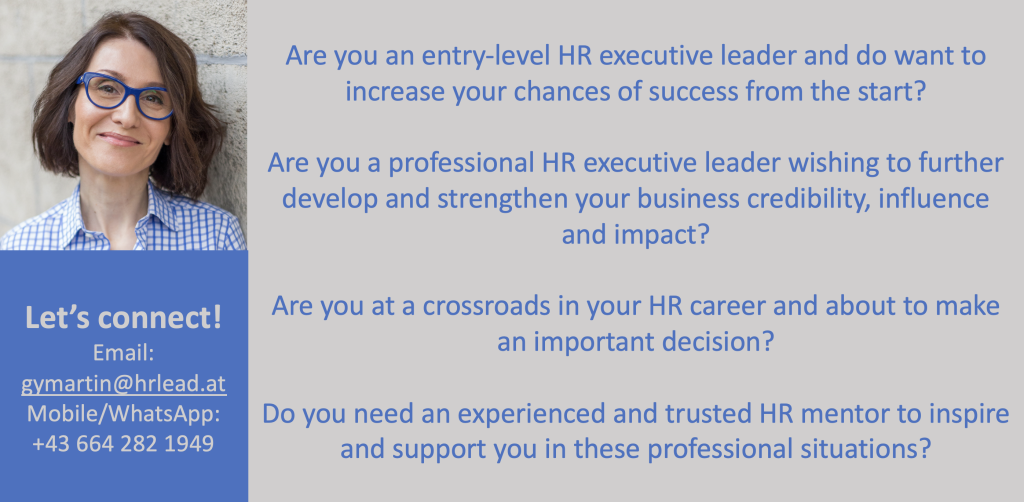 How should we visualise the future of HR?
After the (1) HR transformation (the administrative-rooted role became the role of a strategic partner) and the (2) HR disruption (the introduction of digital, data and innovation-based HR solutions came to the fore), the global pandemic has fundamentally shaken our previous ideas about business and work, our existing structures. Due to the combined impact of future business growth and the pandemic (3) HR reinvention will lead to an inevitable, fundamental rethinking of the function in the future.
The HR function will become a business-centric, transformative, data-based, investment- and innovation-driven, simple, flexible and horizontal strategic area that maintains human-digital balance.
HR reinvention will require a new HR vision which helps to build up the new HR organisation from the ground. This will require a complete paradigm shift. In the short to medium term, the real challenge for HR leaders will be to reframe the future of work and the HR function.
We're all in the same storm, but we're not in the same boat.
The situation of HR leaders varies from one organisation to another and is not comparable. Everyone is at a different stage, but one thing is certain: for the future prosperity of the business and the HR function, all HR leaders must successfully go through all three transformations.
People who think 'outside the building'
I read, think and talk a lot about the future of work. Far be it from me to give anyone the 'lowdown' or universal solutions. In my view, leaders' views of work are realistic about the past, vulnerable about the present and hopeful about the future. In contrast, workers' image of work is sentimental about the past, dissatisfied with the present and anxious about the future. To reconcile the contrast, it helps to consider the following:
Work and working conditions have developed and improved over the centuries. The promise of tomorrow, albeit differently, can be as bright and hopeful as at any time in the history of work.
There is no well-trodden path to new directions. Every organisation needs people who think 'outside the building', who can break away from their traditional thinking patterns: who can inspire and engage members of the organisation to implement new, breakthrough solutions that have a positive impact not only on the business, but also on the society and the environment.
Inspirations: HR in the moment: The changing expectations and perceptions of HR by Sage, The new growth game by McKinsey, 24th Annual Global CEO Survey by PwC