"My vision is that HR becomes one of the top careers people want in the future." – Rita Trehan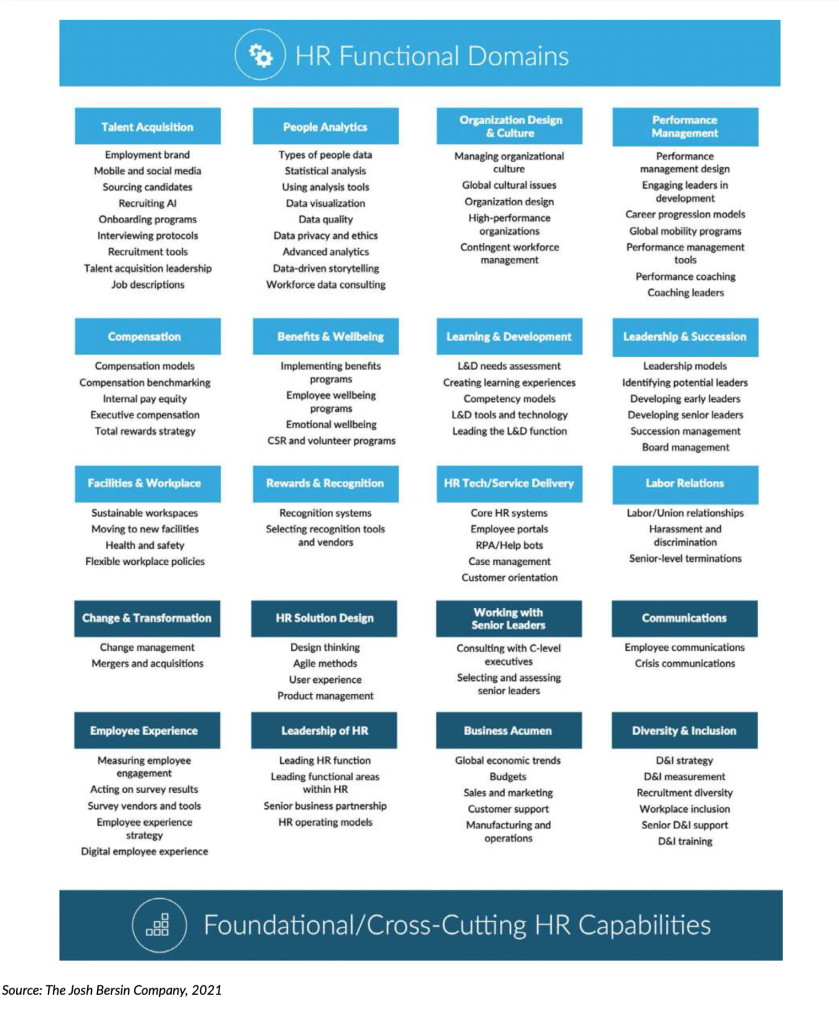 I'm working in HR. I thrive on variety, and I like the freedom of choice. On top of that I possess a range of interests. If you are like me in this respect, you will not become disappointed about this business field in the future.
Many years ago, the company I have worked for at that time came up with a HR Functional Skillset Framework included 10 defined HR capabilities. The then and the new Global HR Capability Framework (by The Josh Bersin Company, 2021) below show significant differences.
Please study the chart carefully!
As you see due to digitalization, disruptions, and the global pandemic some HR capabilities are LEVELLED UP, some are NEW. Most capabilities are part of the HR functional domains, the rest are boundary crossing capabilities.
In my view this is not a simple chart, but a summary and short guidance for those, who want to
see the HR's BIG PICTURE
strive for a CAREER in HR
develop FUTURE-PROOF HR knowledge and skills
INNOVATE existing HR domains
REINVENT existing HR function
Think about: Where are you now? Where do you want to be in the future? How will you rise to the new challenges? You may think about your HR team too.
If you were ever driven into a corner during your career 'either go broad or go deep' – this question is now solved.
In the future, organizations will depend more and more on multifaceted (T-shaped will evolve into PI-, M- and COMB shaped) employees. Those people will have a broad mastery of general skills (horizontal) atop a few spikes of deep functional or domain expertise (vertical). You will never get bored in HR! This will have an impact on the agile set up of the HR function: the mindset, operating models, roles, services, products and cooperations with the business.
Keep in mind however you decide:
YOUR COMPANY'S FUTURE AND SUCCESS DEPENDS ON YOUR CHOICE AND PERSONAL DEVELOPMENT.